"Should my business be going to Cloud?"
This is one of the most popular questions that comes up in my conversations with clients, and like every other question I get, I like to answer it with "It depends".
Before we can address this, we need to address the ongoing struggle between IT Professionals and Marketing Professionals. This was cleverly outlined in the classic Project Management meme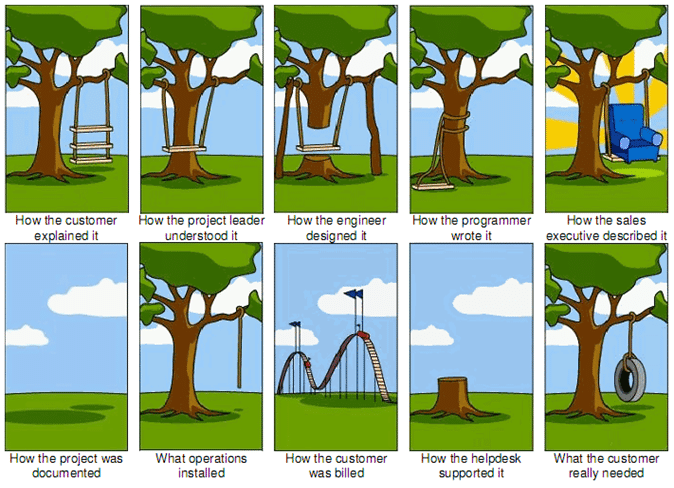 We won't get too far into the specifics of this as Marketing can be a post all by itself, but suffice to say, the…let's call it exuberance to sell something new, tends to make for overly aggressive messaging targeting the Stakeholders which does not generate tingly-friendly feelings on the people who actually have to implement, support, or answer questions about the technical specifics. This is true no matter if the "Expert" person is at your company or the company the marketing person is sitting at. If you need a further demonstration of what this looks like you can watch the skit on YouTube called "The Expert" which should give you an idea of what frame of mind to approach this question with
Keeping this in mind we need to immediately increase our level of skepticism when we hear about Cloud Computing (or really any new technology).
Let's switch tracks for a moment. One of the things I always talk about is how there's at least two sides to everything. Literally you can take a specific item, scenario, concept, etc. examine it and you'll see two or more sides that reflect or are directly opposite to each other. In business finances for example we have Operating costs and Cost of Goods Sold (COGS). Traditionally Operating costs were made up of things like Rent for the office, Utilities, supplies and things like that. Supplies would include the cost of equipment (such as computers) Utilities would include cost of the internet and so on. COGS would be made up of how much money the business would need to spend, in order to provide the service that they offer. This is essentially two sides to the same thing (money being spent), but you track them separately because they help you break down the cost of running the business vs the cost of providing services.
In other words, Operating Expenses can be broken down to the point where you would assign a Per Dollar amount for each Employee that you have, and COGS would be broken down and assigned a Per Dollar amount for each Customer
Now let's get back to the point of this. Cloud, like everything else, has 2 or more (way more actually) sides. There's Infrastructure as a Service offerings, Platform as a Service, Software as a Service, and so on and so forth and all of these items get mixed up and placed into the "Cloud" category. If you dig into what Cloud actually is, you'll find that it's just…rented computers. Really. If you're skeptical, you can read more on this here from one of the bigger software platforms on their reasons why they're leaving the cloud.
The questions we'd want to answer so that we can determine if you should be moving to the cloud are as follows.
Would you be moving your Operating Expenses to the cloud or your COGS. Specifically, are you providing an online service to your clients that requires you to rapidly scale up if you were to grow, or that allows you to measure out the cost of running in the cloud against the number of users you're servicing?
Running in almost any cloud has pricing that is broken down to the minute, generally speaking. This is one of the big things marketing likes to tout "Scale up or down as needed, so it's very cost effective". Cost effective compared to running them 24/7 sure, but not cost effective compared to buying hardware. Marketing is selling you on the idea that if you needed to turn down services, you can do rapidly and save money with it off, but if you never need to turn down services, and your scaling doesn't happen rapidly, then you're actually spending way more over the same period of time of hardware life. Up to 4 or 5 times the amount potentially.
Do you have a need either from a compliance standard or your own security policy for enhanced security, physical auditing, a requirement to be highly available or a guaranteed uptime of 4 or more 9s (99.99%)?
Here is where it starts making sense to consider, although the question of finding a datacenter that will rent you hardware or allow you to place hardware vs running in something like Google Cloud, Azure, or AWS is still debatable. In the end the level of redundancies that exist in the cloud or datacenter are harder to build (read, more costly) than using an infrastructure that is already built and essentially being shared. This isn't a new phenomenon, if you've read my article on the MSP Business Fallacy, or even just paid attention in the world the idea of pooling resources to save on costs is a well-established and very successful pattern. This is something that can range on a spectrum from sharing power costs, to sharing full on hardware and running your services on segregated containerized workloads.
Are you concerned about control of your data. Specifically, does it matter to you if your data is physically on equipment that you solely own and control, or is your business okay with the data being placed onto equipment owned and controlled by a trusted Third Party
Data sovereignty is an important part of the equation, even if you do trust it to a third party, the question of which region and where it is physically located is still an issue. In the end the agreements you sign with vendors and clients state that the data you hold for them is your responsibility to protect and keep safe and you do not have the right to assign that responsibility to anyone else. These are all concerns that should be evaluated and addressed in your assessment of moving to cloud.
In the end there's no real good right answer, as most of these questions are ones you'll need to decide for your business. I've outlined a table below to help with the decision matrix, but it is still only just a suggestion.